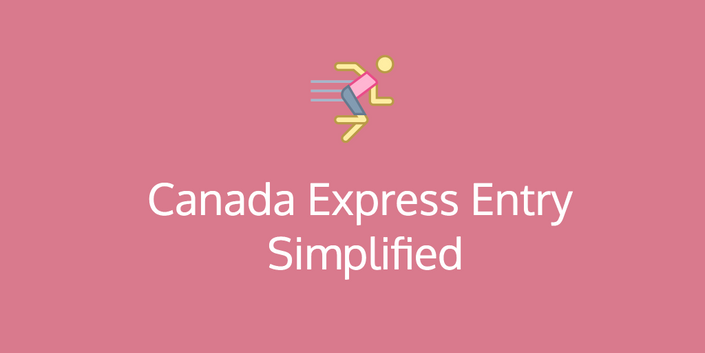 Canada Express Entry Process
Learn About Canada Express Entry Process in Less than 3 Hours!
Are you exploring Permanent Residency in Canada via Express Entry as a backup option if things don't work out in the USA?
Perhaps, you want to move to Canada considering the potential Green Card wait times in the USA and random H-1B Visa Lottery process.
Canada is sending invitations to apply for Permanent Residency to about 7000 people every month.
What's Included in The Canada Express Entry Video Guide
Canada Express Entry Process

How CRS Score is Calculated


Factors Applicants Have Control Over

Timeline and Processing Times

Documentation Requirements


Education and Experience Requirements

How to Increase the Points

Screenshots of ITA, Application

Transcripts Evaluation Requirements

How to Prove Work Experience

Job Opportunities for the Family

And Lot More
F1 Students on OPT and STEM OPT
Just imagine an F-1 student on STEM OPT, which expires in 2019. He/she has one shot at H-1B Visa. If things don't work out with H-1B Visa Lottery, right now there are limited options - Day 1 CPT in under extreme scrutiny with RFE.
Else, Ph.D. or Pack your bags back to your home country.
When faced with such a difficult decision - Going Back Home or Moving to Canada? Most tend to go with Moving to Canada. And for some, they are considering to Canada for good.
H1B and H4 Visa Holders
Green Card waiting time for professionals in EB2 and EB3 is ... Endless.
H-4 EAD is under chopping block as per the latest update from DHS.
How long can a family wait in Green Card Limbo?
That's what forcing some H-1B Visa applicants to apply for Canada via Express Entry.
Even Marriages plans are getting canceled if the Bride or Groom don't have H-1B or if Spouse Can't work on H-4 Visa.
That's what forcing non-immigrants in the USA to consider Canada a Plan A or Plan B.
How This Course Helps F-1, H-1B and H-4 Visa Holders?
Think about the opportunity cost.
Just imagine - How much is your one hour of your time worth to you? It took well, several hours of time to find people who have gone to Canada, get screenshots from them, then learn about PNP, talk to Canada Immigration Consultants to put together this event. You would have to do the same.
Would you rather spend, few dollars to get a sold head start for Canada Express Entry Process easily spend over 80 hours of your time to learn the exact same information on your own?
How to Purchase This Guide?
This Guide is now part of Premium+ Membership.
Join Premium Membership to access this Guide along with 10+ Guides on H1B Visa Plan B, Day 1 CPT Webinar Replays with Immigration Attorneys. We have interviews with Immigration Attorney's from Canada answering over 150+ questions for F1, H1B Visa holders about moving to Canada.
I have attended your 'Green Card Process' and 'Canada Express Entry' webinars. They have helped me a lot in many aspects and made me realize my current immigration situation. The information you put in for those 2 hours of webinars shows the amount of research you have done. That is when I started thinking about scheduling "Ask Raghu".

Honestly, I was not sure how much of my situation/problem/question can I explain to you in those 15 minutes, but I was very satisfied when you went over those 15 minutes to answer all my questions. This itself is a proof of your commitment.
I am not writing this for publicity or just for the sake of writing it. I have been wanting to send this email to you from the day I spoke with you. I cannot explain in words how much clarity I have over my situation after my call with you. Thank you so much for answering my questions. I will definitely keep you updated on any progress of my situation.
- Priyanka, Student on STEM OPT
I'am really fortunate to attend your session on Canada PR process. I had a very minimum understanding about the PR process. Thanks to you in sharing with us the information and guiding us through the right path.
I have never seen before, someone talking continuously for more than two hours on topics and answering all our questions.The best part was, you made the session very interactive.There were many questions and doubts and I believe like myself others have profited from this session.I would really recommend your sessions to people whom I know.
More power to you in the work your doing and the help you are providing to thousands of people like us. God bless you and your family :)
- Sanyo, Student on OPT
Completely new to Express Entry Process and your Session has educated me more. Good start to explore more. Thank you very much!
- Siddhant, H-1B Visa Holder
Course Curriculum
Canada Express Entry Process
Available in days
days after you enroll
Interview With Attorney Daniel Mandelbaum
Available in days
days after you enroll
The Canadian Journey
Available in days
days after you enroll
This course is closed for enrollment.