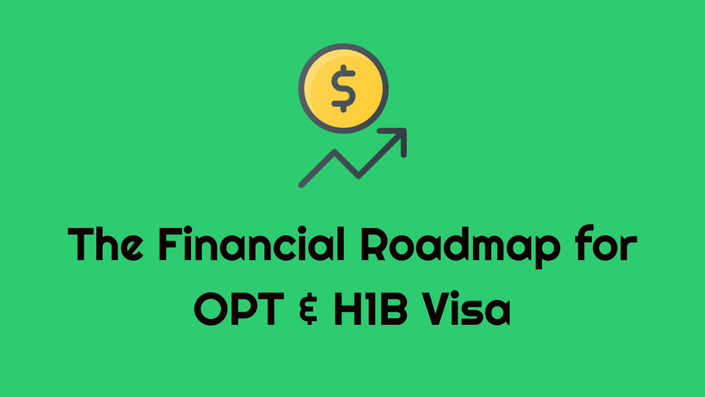 The Financial Roadmap
Personal Finance for Non-Immigrants on F1 & H1B Visa
Your Money Has to Work for You.
Ideal Money Doesn't Generate Income
You have to Learn the Skills to Make Your Money Work for You.
I had the following questions when I started first job out of Masters.
What do you do with the money you are earning?

What can you expect in terms of your personal finance as you navigate the life in the USA?

Money sitting in the Checking Account will Not Grow. So, how can you make the money work for you?

How to create a Savings Strategy for OPT, STEM OPT & H1B Visa Holders?

Should you contribute to 410(k) while on OPT or STEM OPT?

Should you contribute to 401(k) while on H1B or H4 EAD?

Should you opt for low cost High Deductible Health Insurance or High Cost PPO Plan?
And the list goes on for someone who is new to corporate world and you started to earn money.
Personal Finance skills are taught in the school.
I purchased my home when I was Single and Just turned 25, while on H1B Visa. Not many folks take that kind of risks.
For me it was an Investment, not a Risk.
Most F1 Students with their First Job have their money in the Checking Account that Doesn't Pay you anything.
I have seen Families on H1B Visa, when spouse is going to H4 to F1 Visa Interview, have $50,000 sitting in their Checkin Account!
Your Mantra might be Spend Less = More Savings.
And I have seen someone spending 4 hours to find $10 coupon. but, what is the value of your 1 Hour? Is it $40?
Is it worthwhile to spend $160 of your time to Save $10?
In this Guide (recorded from the live event), you will find answer and look at my Financial Roadmap.
You can expect the have a similar path.
In the end, in 2 hours, learn how to strategize and plan for your future expenses. New Car, Second Car, Marriage and Ultimate goal of Buying your first home (The American Dream), then few more investment homes.
All these require a plan.
Learn how I set my goals and automated my savings and you can kick start your journey.
How to Purchase This Guide?
This Guide is now part of Premium+ Membership.
Join Premium Membership to access this Guide along with 10+ Guides on H1B Visa Plan B, Day 1 CPT Webinar Replays with Immigration Attorneys.
Course Curriculum
Personal Finance 101
Available in days
days after you enroll
Automate Your Personal Finance
Available in days
days after you enroll
Webinar: Recording - The Financial Roadmap
Available in days
days after you enroll
This course is closed for enrollment.